Civic*Celerator organizers would like to thank the following people and organizations for making this unprecedented project possible.
Demo Day Judges
Daryl Huff, Hawaii News Now
Gordon Pang, Honolulu Star-Advertiser
Kathy Higa, 2020 Fusion
Kristin Izumi-Nitao, Campaign Spending Commission
Lisa Maruyama, Hawaii Alliance of Nonprofit Organizations
Nick Grube, Civil Beat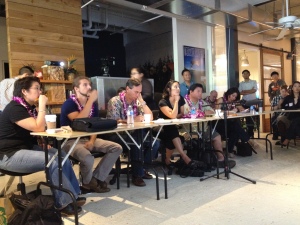 Photo: Civic*Celerator Judges listen to a presentation
Civic*Celerator Demo Day Teams
1. Mark Egesdal, Alika Reppun and Will Reppun
2. Rich Halverson, Davis Kurihara-Nakasu, UH Shidler's ITM 352 class and the ITMA Club
3. Ben Trevino, David Wang, Britney Taamu-Miyashiro, Ivan Lui
4. Jason Sewell, Russel Cheng, Dev League Team
5. Kyle Oba, H. Doug Matsuoka, Jordan Ohama
6. Jason Axelson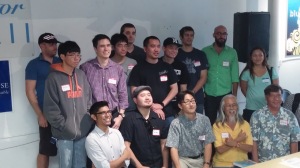 Photo: Civic*Celerator coders and developers
Additional Civic*Celerator participants:
Nicole Hori, Jon Lott and Sam Suen
Alex Bergo, Alan Solidum and Michael Winter
Demo Day Presenters
Jared Kuroiwa
Royce Jones
Team mentors
Jared Kuroiwa
Royce Jones
Tony Baldomero, Campaign Spending Commission
Venues
Iolani School, Sullivan Center
Rechung Fujihira and The Box Jelly Coworking
Catering
Kokorotei
Iolani School
Event filming
H. Doug Matsuoka
Joe Heaukulani
Jerome Koehler
Event Team
Adrienne Brantley, Common Cause Hawaii
Leissan Sadykova, Common Cause Hawaii
Power Ballot Research Volunteers
Joe Heaukulani
Jeanne Ohta
Dustin Schoedel
Christine Trecker
Connie Clinton
Additional Thanks To
Jonathan Lott
Brett Aka, Prudential Advantage Realty
Ryan Ozawa
Natalie Iwasa
And a special mahalo to everyone who helped spread the word about Civic*Celerator!
Event Sponsors
Voqal
Code for America
HTDC
Civic*Celerator is brought to you in partnership by
Common Cause Hawaii
Hawaii Open Data